Home favourite Nuria Iturioz picked up where she left off yesterday afternoon to record a bogey-free round of 66 (-6) to lead the rain-affected Andalucia Costa Del Sol Open De Espana at the end of round one.
Returning this morning at 8.30am to the 11th tee at three-under-par, the three-time LET winner got straight to work with a birdie at her opening hole before further gains at Nos. 16 and 17 saw her overtake Sanna Nuutinen at the top.
Seeming unfazed by the additional pressure that comes with leading your 'home' open, the smiling Spaniard made a clutch sandy par on the par five 18th to keep her scorecard clean heading into the afternoon.
"It is an extra motivation representing Spain this week and I am happy to be here. I am hitting good tee shots, good irons and I made a great up and down on the last so everything is going in a good direction so I hope I can keep I that way."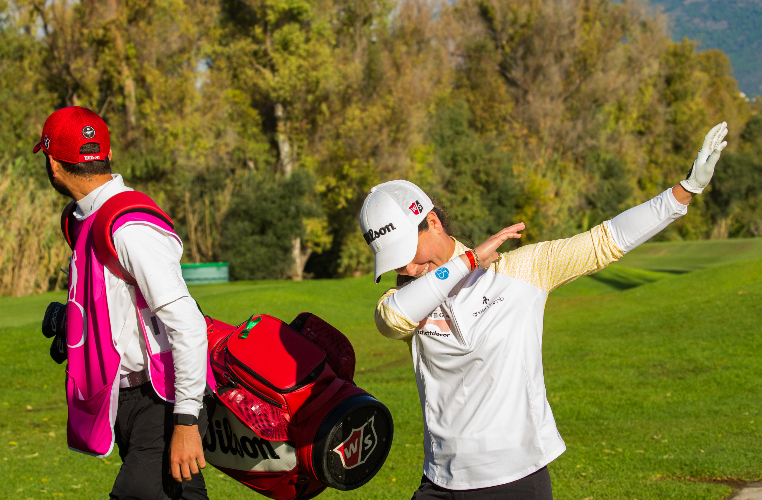 Azahara Munoz remains the only Spanish player to capture the title (2016, 2017) from the previous 17 editions of the Open De Espana but Nuria, along with the 17 other Spanish players in the field this week, will be looking to rewrite the history books.
"I'd love to lift the trophy but there is a long way to go. I love the conditions in Spain, the grass and everything. I am sad that I can't see the people who come and support the tournament, but I have them in my heart."
Also making a move this morning at Real Club De Golf Guadalmina is England's Alice Hewson. A first-time winner this year at the Investec SA Women's Open, Hewson isn't too far removed from the amateur days of 36 holes in a day and heads out back out to the links just 40 minutes after signing for a 68 (-4).
"It is very difficult coming back to a round; you are in the flow and have to stop and to get started again is hard. It was very dark this morning, so the warmup was a bit different, but I went out with no expectations, try and finish off the good round that I started. Time for a quick chat with my coach and then back out."
Currently sitting in second place in the prestigious LET 'Rookie of the Year' race, Hewson needs a victory or solo second place finish to overtake Australia's Stephanie Kyriacou at the top.
"I have had a few poor weeks the last couple of tournaments so I am little bit behind but just like every single week I am trying to do my best and win so that is the goal from here."
Check out the leaderboard HERE
You can watch the action LIVE on Friday from 13:00 – 17:00 GMT (14:00 – 18:00 local) and on Saturday and Sunday from 12:00 – 16:00 GMT (13:00 – 17:00 local) on the LET website HERE
Follow all the action on @LETGolf on Instagram and Twitter and Ladies European Tour on Facebook – #RaiseOurGame @Openfemenino #SpanishOpen #RaceToCostaDelSol